Monday, March 2, 2015
Na
Julius Mathias, Mwananchi
Dar es Salaam. Kanisa la Pentekoste Tanzania Usharika wa Tandika, Manispaa ya Temeke limenusurika kuteketezwa kwa moto. Tukio hilo lilitokea mwishoni mwa wiki iliyopita na mtuhumiwa alikamatwa na kufikishwa Kituo Kikuu cha Polisi Chang'ombe.
Kaimu Mkuu wa Polisi wa Mkoa wa Kipolisi Temeke, Kamishna Msaidizi (ACP), Zacharia Sebastian alisema mtuhumiwa huyo atafikishwa mahakamani leo baada ya taratibu kukamilika.
Akizungumza na gazeti hili katika ofisi yake, ambako ndiko moto huo ulianzia, Askofu wa Kanisa Jimbo la Temeke, Raymond Noya alisema tukio hilo ni la kushangaza, kwani halikulenga kuiba mali zilizokuwamo kwenye ofisi hiyo.
"Hili siyo suala la uhuni…naona inaweza kuwa ni vita dhidi ya imani. Lengo lilikuwa ni kuchoma kanisa na siyo kuiba vilivyomo. Kama unavyoona hakuna kilichoguswa wala jaribio la kuvunja ama mlango au dirisha. Hili ni jaribio la pili kutokea," alisema Askofu Noya.
Kuhusu jaribio la kwanza alisema lilitokea Novemba mwaka jana, lakini hakukuwa na madhara makubwa na kesi ilifikishwa kituo cha polisi ingawa hadi leo haijafikishwa mahakamani kwa maelezo kuwa upelelezi bado unaendelea.
Noya alisema kwa miaka miwili iliyopita kumekuwa na matukio tofauti yanayokwaza huduma ya kanisa, kwani wakati mwingine wamekuwa wakirushiwa mawe wakati wa ibada.
"Kanisa lina mlinzi, lakini kuna wakati huwa anazidiwa. Tangu kanisa hili lilipoanzishwa mwaka 1997 ni miaka miwili tu iliyopita ndipo mambo yameanza kubadilika. Tumekuwa na ushirikiano mzuri na watu wanaotuzunguka kwa muda wote tuliokuwapo hapa," alieleza.


Sunday, March 1, 2015
Na
Abou Shatry Washington DC
Mwakilishi wa jimbo la mji mkongwe ambaye pia ni Naibu Katibu Mkuu wa chama cha wananchi CUF Mhe: Ismail Jussa Ladhu amesema Tanzania inaelekea kusipotarajiwa na maoni ya wananchi waliyotoa maoni.
Muwakilishi wa jimbo la mji mkongwe Mhe: Ismail Jussa Ladhu akiongea na waTanzania wa DMV Siku ya Jumamosi Feb 28, 2015 kwenye ukumbi wa Tabeer Hall uliopo University Blvd East, Hyattsville, Maryland, Nchini Marekani.
Aidha amesema matarajio ya watanzania hayajatimizwa mbali ya kuwepo mijadala mingi juu ya rasimu ya Jaji Warioba ili kulipatia ufumbuzi wa kudumu katika Suala la katiba mpya.
Mhe. Jussa aliyasema hayo wakati akizungumza na Watanzania wa DMV siku ya Jumamosi Feb 28, 2015 kwenye ukumbi wa Tabeer Hall 1401 University Blvd East, Hyattsville, Maryland, Nchini Marekani.
Pia Mhe. Jussa ambaye pia ni mjumbe wa UKAWA amesema uamuzi wa UKAWA kususia na kujitoa katika bunge la katiba ni kwa sababu chama tawala CCM kimekwenda kutetea sera zake na kupinga mawazo ya wananchi ambayo yamewakilishwa katika rasimu ya Jaji Warioba.
Mkutano huo ulijumuisha Agenda kadhaaha ikiwemo Mchakato wa Katiba mpya, Ufafanuzi juu ya muundo wa serikali tatu, Uamuzi wa UKAWA kususia mchakato huo dhalimu na sababu ya maoni ya watu walio Diaspora kuhusu Uraia Pacha kutokutekelezwa kama walivyotarajia.
Video ya maswali na majibu utawajia hapo baadae
Watanzania waishio DMV(Washington DC, Maryland na Virginia) wakimsikiliza Mh Ismail Jussa alipohutubia katika mkutano uliondaliwa na Muungano wa Vyama vya CUF na CHADEMA Marekani.
Mwakilishi wa jimbo la mji mkongwe Mhe: Ismail Jussa Ladhu akiongea na waTanzania wa DMV, walioka meza kuu wakanza kushoto Katibu wa Tawi la Chadema DMV Liberatus "Libe" Mwangombe, akifuatiwa na Mwenyekiti wa Tawi la Chadema DMV Mhe. Kalley Pandukizi, Shamis Alkhatry CUF pamoja na Katibu Mkuu wa Baraza la kina mama CHADEMA DMV Bi Baybe Mgaza.







An inquiry in Rwanda has recommended that the government initiate criminal and civil proceedings against the BBC over a documentary which questioned official accounts of the 1994 genocide.
Paul Kagame's Rwandan Patriotic Front (RPF) has been in power since the genocide ended
Inquiry head Martin Ngoga found that the documentary failed to meet the BBC's own editorial standards.
The BBC says it is "extremely disappointed" by the findings.
Rwanda suspended broadcasts by the BBC's Kinyarwanda language service after the TV documentary was aired.
"We stand by our right to produce the independent journalism which has made us the world's most trusted news source," the BBC said in a statement.
It said the programme was still going through its editorial complaints process.
"This process has not yet concluded but the provisional findings are that the documentary does not breach the BBC's editorial standards," the BBC said.
Na
Goodluck Eliona, Mwananchi
Dar es Salaam. Kamati Kuu ya CCM imezidi kuwaweka gizani makada sita waliomaliza adhabu ya kufungiwa kwa miezi 12 baada ya kueleza kuwa uchunguzi dhidi yao unaendelea kwa muda usiojulikana, uamuzi utakaowazuia kujitokeza rasmi kutangaza nia ya kuwania urais kwa tiketi ya chama hicho tawala.
Mwenyekiti wa CCM, Rais Jakaya Kikwete akiongoza kikao cha Kamati Kuu ya CCM kilichofanyika Ikulu, jijini Dar es Salaam jana. Picha na Ikulu.
Edward Lowassa, Bernard Membe, Frederick Sumaye, William Ngeleja, Stephen Wasira na January Makamba, ambao walipewa adhabu hiyo Februari 18 mwaka jana, sasa watalazimika kusubiri hadi hapo Kamati Ndogo ya Maadili ya CCM itakapomaliza uchunguzi wake, ikiwa imebaki miezi isiyopungua mitatu kabla ya wanachama kuanza harakati za kuwania nafasi mbalimbali.
Kwa kawaida, CCM huruhusu wanachama wake kuanza kuchukua fomu za kuwania urais, ubunge na udiwani kati ya mwezi Mei na Juni na kabla ya hapo huruhusiwa kutangaza nia ya kugombea nafasi wanazotaka, fursa ambayo makada hao wameikosa hadi sasa.
Katibu wa itikadi na uenezi wa chama hicho, Nape Nnauye aliwaambia waandishi wa habari jana baada ya kumalizika kwa kikao cha Kamati Kuu, kuwa kwa kuzingatia kanuni za maadili ya CCM, mwanachama aliyepewa onyo kali atakaa chini ya uangalizi kwa kipindi kisichopungua miezi 12,
"Baada ya miezi hiyo kwisha, Kamati Ndogo ya Maadili inaendelea na kazi yake kuchunguza mienendo yao hao waliokuwa wamepewa adhabu katika kipindi chao cha adhabu cha miezi 12 kama wametekelezaje masharti ya adhabu," alisema Nnauye.
Alisema kazi ya kamati hiyo ndogo ni kuchunguza ili kubaini kama makada wote sita walitimiza masharti ya adhabu waliyopewa na kwamba itakapomaliza uchunguzi katika muda usiojulikana itapeleka taarifa Kamati Kuu.
Mbinga West Member of Parliament and Member of the ruling Chama Cha Mapinduzi (CCM) National Executive Committee (NEC) Captain John Damian Komba is no more.
He died at TMJ hospital in Dar es Salaam Today, where he had been admitted few hours before he breathed his last. The Tanzania One Theatre (TOT) Secretary General Mr. Gasper Tumaini said that medical reports show that Komba was suffering from Pressure and Diabetes.
According to him, Captain Komba was admitted to Sanitas Medical Clinic in Dar es Salaam a week ago, and after two days his health improved and he was discharged.
Secretary, Mr Nape Nnauye meanwhile, expressed shock and sadness over the sudden passing of Capt Komba saying that the void he has left behind would be difficult to fill.
Speaking at a press conference yesterday, Mr Nnauye said that the party's National Chairman, President Jakaya Kikwete, had received the news with great shock.
He said that the president has sent condolences to the late Capt Komba's family and noted that he knew the deceased well because he had worked with him for many years.
"Capt Komba was a veteran cadre, an artist, a music composer and he will be dearly missed.
He composed a song during the 38th anniversary of the party which touched many hearts, now it seems it was his way of saying goodbye," he said.
Saturday, February 28, 2015
Model: Murano Color Silver
Engine: Cap. 2160 cc
Piga Simu number ilipo kwa manunuzi
255-718-335-333
Inapatikana Michenzani block number 2
Zanzibar
By AFP
Victoria Falls - Zimbabwean President Robert Mugabe on Saturday will celebrate his 91st birthday with a million dollar bash attended by thousands of faithful party supporters.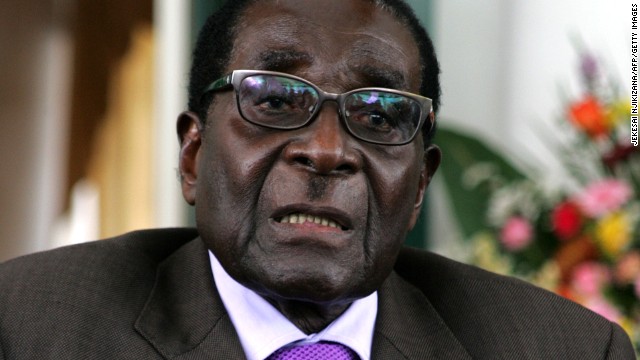 Zimbabwean President Robert Mugabe (AFP)
As elephants are slaughtered for the feast at a luxury hotel in Zimbabwe's famed Victoria Falls, critics are questioning the scale of the festivities, calling them "obscene" in a country where millions live in poverty.
Mugabe, who has ruled Zimbabwe since independence from Britain in 1980, is the world's oldest leader.
While he is hailed by many of his African peers as a liberation hero, critics say that over the following decades he turned the "breadbasket of southern Africa" into a basket case, trampling human rights, justice and democracy.
Mugabe's violent seizure of white-owned farms triggered food shortages and hyper-inflation, while Europe and the United States imposed sanctions on Zimbabwe over elections seen as rigged.
In an interview marking his birthday, Mugabe admitted he blundered by giving ill-equipped black farmers vast tracts of farmland under his controversial land reforms.