Staff writer, Al Arabiya English Sunday, 12 June 2016
CIA's director John Brennan told Al Arabiya News Channel on Saturday in an exclusive interview that "there was no evidence" of a Saudi involvement in Sept. 11 after a 28-page congressional investigatory report claimed that there were proofs Saudi officials had supported Al-Qaeda in the run-up to the attacks.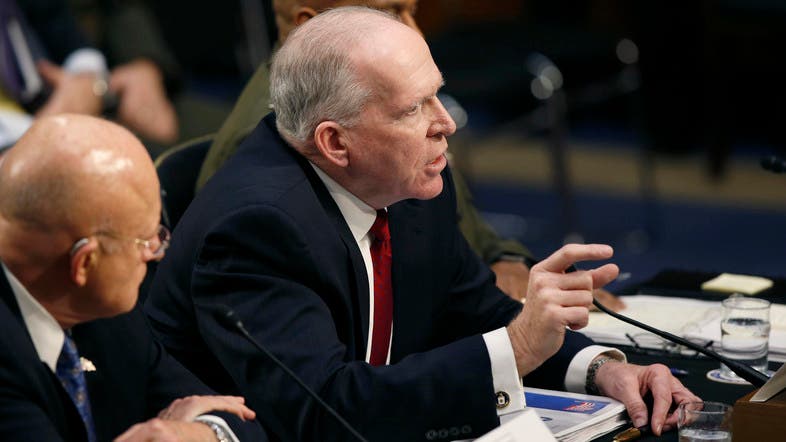 CIA Director John Brennan (middle) testifies on Capitol Hill in Washington, Tuesday, Feb. 9, 2016, before Senate Intelligence Committee hearing on worldwide threats. (AP)
In May, John Lehman, a member of the Sept. 11 commission, told CNN that the classified contained evidence that as many as six Saudi officials supported Al-Qaeda.
But Brennan in his first interview with an Arab media outlet dismissed the claim.
"Subsequently the Sep. 11 commission looked very thoroughly at these allegations of Saudi involvement, Saudi government involvement and their finding, their conclusion was that there was no evidence to indicate that the Saudi government as an institution or Saudi senior officials individually had supported Sep. 11 attacks," he said.
The director said "it is good" that these 28-page report will "come out."
"Indeed subsequently the assessments that have been done have shown it was very unfortunate that these attacks took place but this was the work of Al-Qaeda, [Al-Qaeda's leader Ayman] Al-Zawahri, and others of that ilk," he added.
Read more:
english.alarabiya.net