By
Associated Press Tuesday, 28 February 2017
Russia pledged to veto a Western-backed UN resolution Tuesday that would impose sanctions on 21 Syrian individuals, organizations and companies allegedly involved in chemical weapons attacks in the war-ravaged country.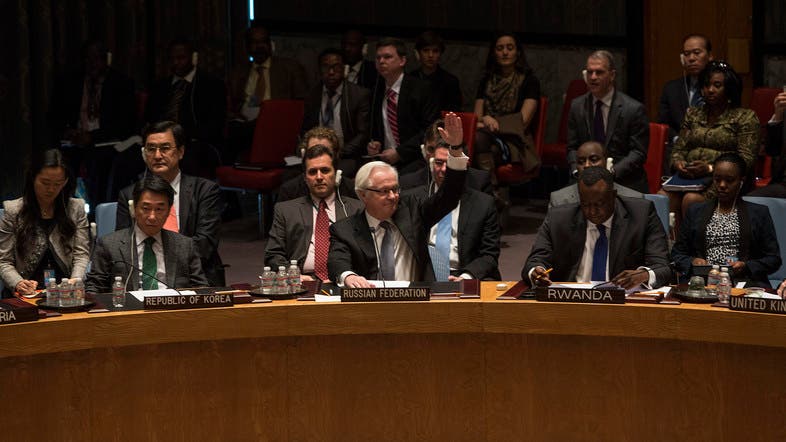 Russia's ambassador to the UN Vitaly Churkin. (Reuters)

The draft Security Council resolution would also ban all countries from supplying Syria's government with helicopters, which investigators have determined were used in chemical attacks.
The resolution, initially sponsored by Britain and France, was recently joined by the new United States administration of President Donald Trump.
France's UN ambassador, Francois Delattre, said Monday that his government was "very pleased that the new American administration has confirmed it shares completely our view" on the need for sanctions.
British Ambassador Matthew Rycroft said US support was a sign that the three countries are determined to oppose the proliferation of weapons of mass destruction and "make sure that chemical weapons cannot be used with impunity."
The resolution follows a joint investigation by the United Nations and the international chemical weapons watchdog that determined the Syrian government was behind at least three attacks involving chlorine gas and the ISIS group was responsible for at least one involving mustard gas.
Russia, Syria's closest ally, joined the Western nations in establishing the joint investigation, known as the JIM, to determine responsibility for chemical attack.
But Russia's deputy UN ambassador, Vladimir Safronkov, said Friday that Moscow would veto the resolution, which he described as "one-sided," "based on insufficient evidence" and "a provocation."
In a sharp retort, U.S. Ambassador Nikki Haley asked: "How much longer is Russia going to continue to babysit and make excuses for the Syrian regime? ... People have died by being suffocated to death. That's barbaric."
The Syrian government denies using chemical weapons in the civil war, now in its sixth year, but the three Western countries contend there must be accountability following the results of the JIM investigations.
"We call on all our colleagues in the council, all 15, to ... give a strong, clear, message tomorrow that the international community means business on preventing the use of these abhorrent weapons," Rycroft said.
But the British ambassador said he didn't see any indication that Russia would change its mind and allow adoption of the resolution.
The 11 Syrians who would be subject to an asset freeze and travel ban include Amr Armanzi, director-general of Syria's Scientific Studies Research Center, which is responsible for the development and production of chemical weapons and the missiles to deliver them.
Nine current and former military officers and the managing director of a Ministry of Defense subsidiary that assists in the production of chemical weapons are also named.