By
Tony Duheaume Friday, 21 April 2017
Kim Jong-Un is the grandson of Kim II Sung, the founder of the Democratic People's Republic of Korea (DPRK), and just like his grandfather before him, he rules over the country with an iron fist.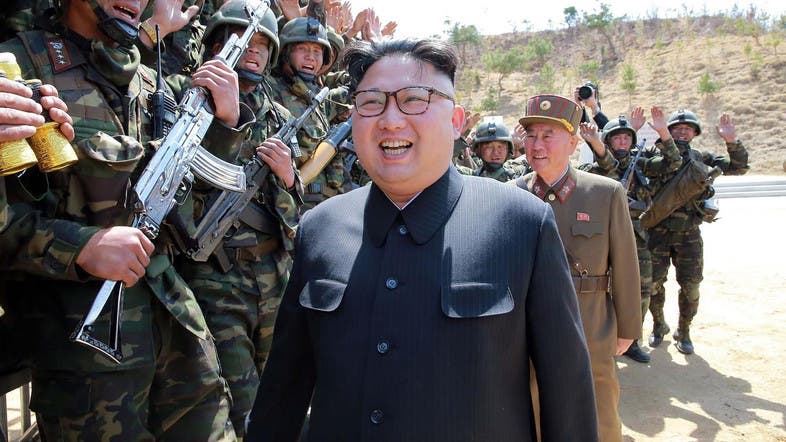 Kim Jong-Un inspecting a Special Operation Forces contest at an undisclosed location in North Korea on April 14, 2017. (AFP)
Through generations of misrule, a multitude of his people are starving, and living in a condition of absolute terror, force fed on the regime's twisted form of communist ideology known as Juche. As stated on the official webpage of the DPR of Korea: "The DPRK is the Juche-orientated socialist state which embodies the idea and leadership of Comrade Kim II Sung, the founder of the Republic and the Father of socialist Korea."
Being in total control of the country's media outlets, North Korea's present leader Kim Jong-Un, can exert complete control over the entire population, through continued inherence to his grandfather's philosophy of Juche (self-reliance), and is able to stir up mass hysteria through pumping out fear of the outside world, while at the same time instilling a fanatical form of patriotism and fierce nationalism into North Korea's insulated society.
After Kim II Sung was placed in control of North Korea by Soviet Russia in 1945, he needed a way to insure that his dictatorship survived, and eventually came up with a way to brainwash the masses, which would enable him to ensure that his planned dynasty would run smoothly for generations to come. It was in 1955, it became apparent through one of his speeches, just how he planned to implement this carefully connived formula of mind control, as he explained the concept of Juche to the masses.
In the eyes of President Kim II Sung, Juche ideology is centred around man being the master of all around him, using his ability to solve all problems, and through the independence of the country's masses, brought about through non-interference from the outside world, it became the base of his socialist policies, with which to develop North Korean society, which would enable the Kim dynasty to stay in power for generations.
Under Juche ideology, the country's autonomy was tantamount to regime survival, as by keeping the nation free of all outside influence, and independent to pursue its own form of politics, it could strive towards a self-efficient economy, as well as maintaining a self-reliant national defence force, enabling the regime to maintain the country's sovereignty at all levels.