Al Arabiya with AgenciesTuesday, 4 April 2017
The likely suspect in a deadly blast that killed 14 people in the Russian city of St. Petersburg is a Kyrgyz-born Russian citizen, Interfax news agency cited Kyrgyzstan's security service as saying on Tuesday.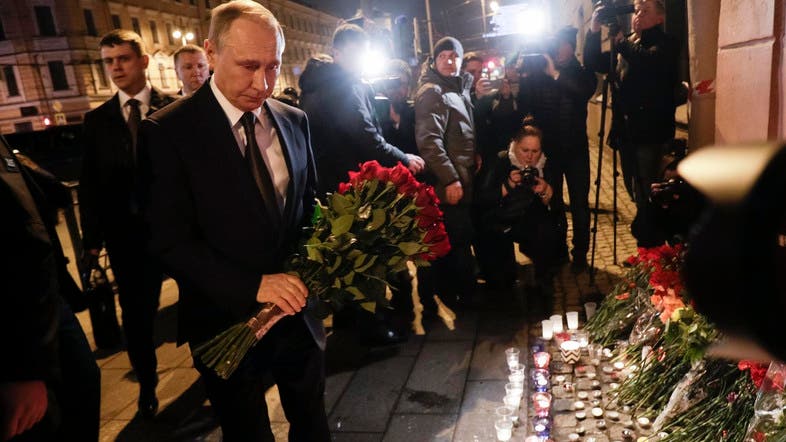 Russian president Vladimir Putin puts flowers down outside Tekhnologicheskiy Institut metro station in St. Petersburg, Russia, April 3, 2017. (AP)
A source earlier told Interfax that authorities had established the identity of the suspected suicide bomber and that the suspect was a 23-year-old from central Asia who had carried an explosive device into the St Petersburg metro in a rucksack.
A man who was captured on surveillance cameras and earlier suspected of a role in the blast came forward to police and said that he played no role, Interfax reported.
Separately, Russian news agencies reported that President Vladimir Putin had met with security services over the incident and laid flowers at the metro station where the blast happened.
At least 14 people were killed and 50 others injured after explosions rocked a metro station in Russia's second city of Saint Petersburg, Al Arabiya News Channel's correspondent reported.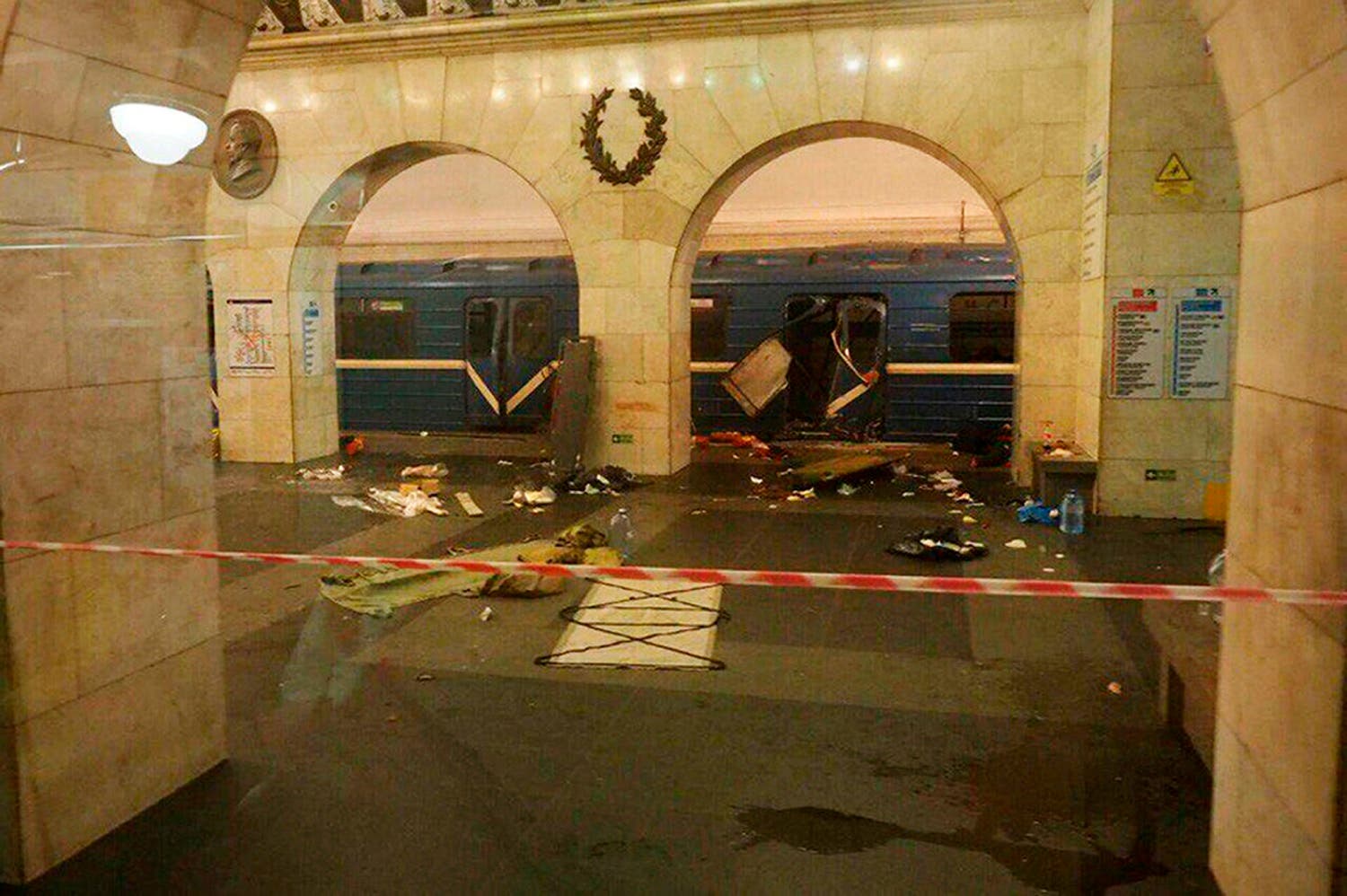 A subway train hit by an explosion stays at the Tekhnologichesky Institut subway station in St.Petersburg, Russia, Monday, April 3, 2017. (AP)
There were blasts in two train carriages at two metro stations, St Petersburg emergency services said.
Interfax cited a source as saying at least one of the blasts involved a device filled with shrapnel. The agency also said that 50 people had been injured.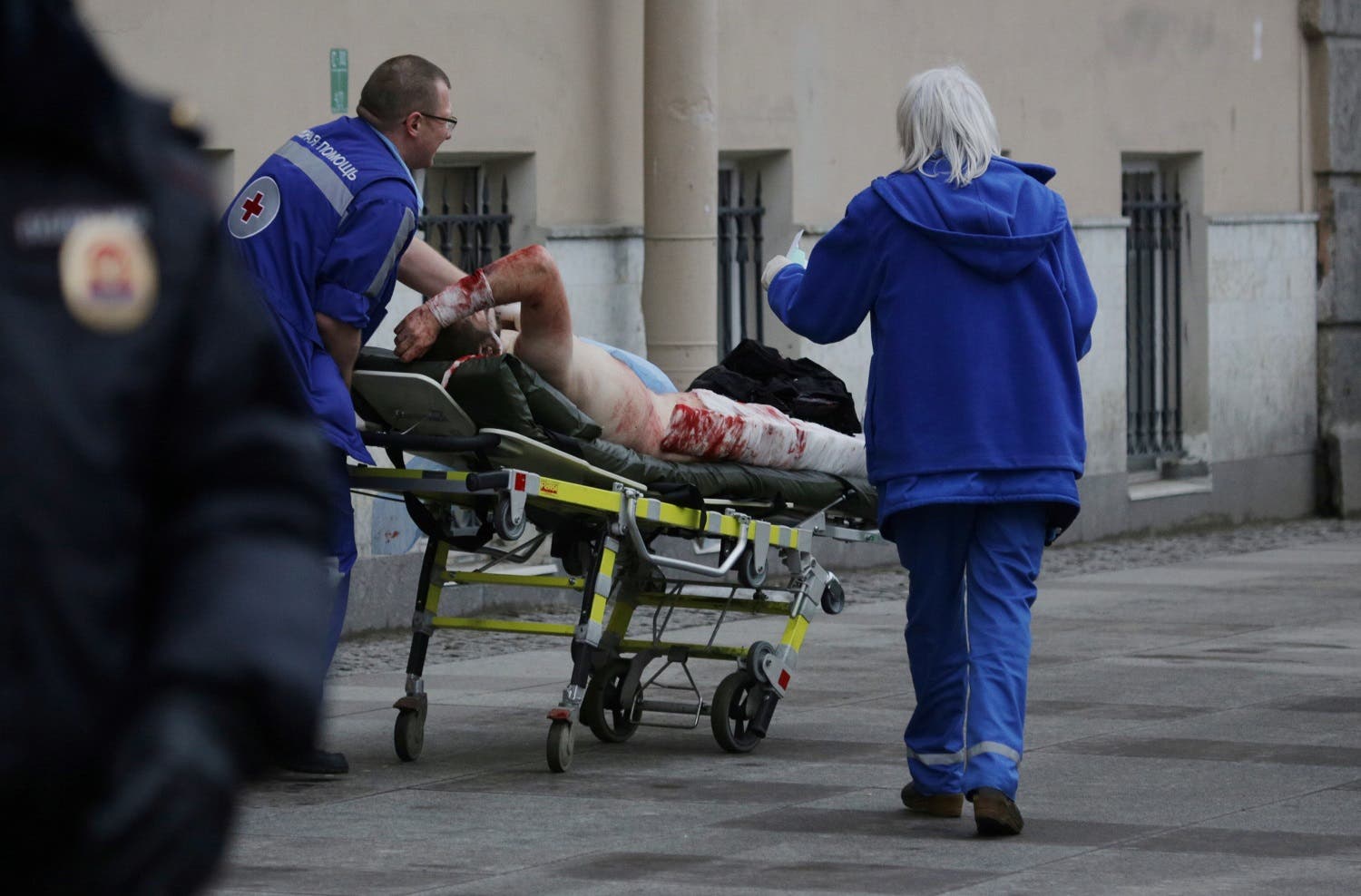 An injured person is helped by emergency services outside Sennaya Ploshchad metro station, following explosions in two train carriages at metro stations in St. Petersburg, Russia April 3, 2017. (Reuters)
All metro stations in St. Petersburg have been temporarily closed down.
Journalist and writer Ashraf al-Sabbagh told Al Arabiya from Moscow that sources have confirmed that tightened security is expected in Moscow in the coming days.
"It is expected for Moscow to tighten security even further after Monday's attacks in St. Petersburg. Security has already been tight for the past few months as this is not the first threat Russia has faced. To what extent these measures will take shape will be clear in the coming days," Sabbagh told Al Arabiya.
Footage of the initial panic in the aftermath of the bombing, which occurred between Sennaya and Technology Institute stations, showed travelers commuters running and away from the wrecked metro carriage.