By Staff writer, Al Arabiya English Saturday, 8 April 2017
US President Donald Trump and Saudi's King Salman have said they remain committed to maintaining close contact on a range of regional and bilateral issues, according to a White House statement released Saturday.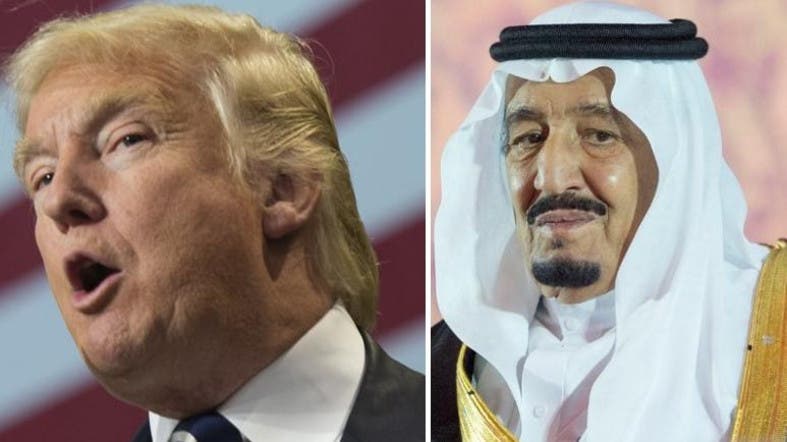 King Salman (R) and Donald Trump (L) spoke on Saturday (File Photos: SPA/ AFP)

The statement follows a telephone conversation on Saturday in which President Trump briefed King Salman about the US military strike against Syria's Sayrat Airfield.
"President Donald J. Trump spoke yesterday with Custodian of the Two Holy Mosques, King Salman bin Abd al-Aziz Al Saud of Saudi Arabia," the statement explained. "The King reaffirmed strong Saudi support for the United States' military strike against the Shayrat Airfield in Syria and thanked the President for his courageous action, which both agreed was a necessary response to the horrible chemical weapons attack on innocent civilians."
The statement added: "Both leaders underscored their personal commitment to strengthening the longstanding relationship between their two countries and committed to remain in close contact on a range of regional and bilateral issues."
Trump briefed the Saudi King details of Friday's military action which saw the launch of 59 precision guided missiles that hit Shayrat Airfield in Syria, where Washington believes Tuesday's deadly attack was launched.
According to a statement released earlier by SPA King Salman congratulated the US President on "this courageous decision which serves the regional and world interest".
"A responsible source at the foreign ministry expressed the Kingdom of Saudi Arabia's full support for the American military operations on military targets in Syria, which came as a response to the Syrian regime's use of chemical weapons against innocent civilians...," a statement carried by state news agency SPA said.
Source:english.alarabiya.net
/