Agencies, ParisSunday, 14 May 2017
Emmanuel Macron said France had chosen "hope" as he was officially inaugurated as the country's youngest president ever on Sunday.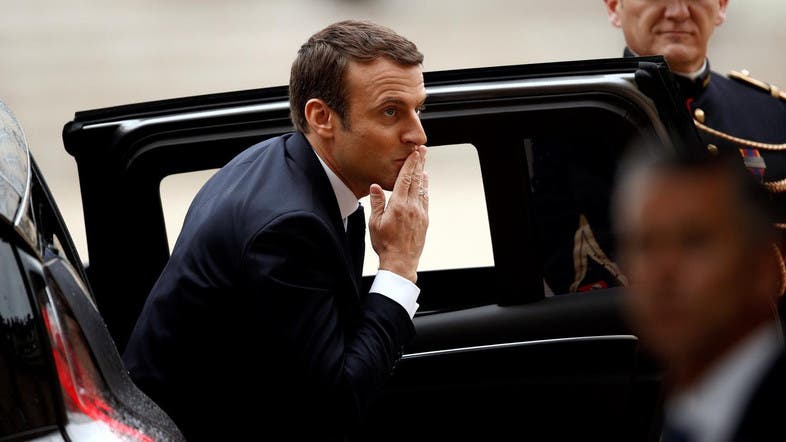 Emmanuel Macron said France had chosen "hope" as he was officially inaugurated as the country's youngest president ever on Sunday. (Reuters)
Macron, 39, promised in his first speech as president that the beleaguered European Union would be "reformed and relaunched" during his time in office.
Central Paris standstill for the inauguration of Emmanuel Macron as president of France for a five-year term he overcame the odds to win and which he has said can unite a divided nation.
In a first for the world's fifth largest economy that is a founding member of the European Union, the 39 year-old centrist newcomer was unknown to the wider public three years ago and does not belong to any traditional political grouping.
The former investment banker will become the youngest postwar French leader and the first to be born after 1958 when President Charles de Gaulle put in place the country's fifth Republic.
In the coming parliamentary elections in June he must try to win a parliamentary majority for his start-up Republic on the Move (REM) party which has blown apart traditional French political boundaries.
Those who believe that the open borders, closer European ties and business-friendly reforms Macron wants are the key to prosperity and peace were relieved when he won a run-off vote against far-right candidate Marine Le Pen a week ago with 66 percent of the vote.
A 21 gun salute at the Esplanade des Invalides behind the Eiffel Tower after he takes power will mark at least a pause in the anti-globalization trend that brought Donald Trump the U.S. presidency and led British voters to pick a future outside the European Union.
But the outcome of a fraught, tight, and bitterly contested election campaign was a disappointment for almost half of France's 47 million voters.
Many of them feel dispossessed as manufacturing jobs move abroad and as immigration and a fast-changing world blur their sense of a French identity.
In the first round of voting, more than 45 percent chose either Le Pen or other candidates who promised the opposite of Macron's medicine; that they would close the wealth gap by rolling back globalization, shutting borders and unraveling the institutions of the EU.
Macron, once an aide to outgoing Socialist President Francois Hollande and who rose to fame as his economy minister between 2014 and 2016, may therefore struggle to get the country behind him.
The business-friendly labor reforms in his program will push on with an effort Hollande started and which killed his chances of a second term by failing to fix unemployment. They helped make Hollande the least popular French president in modern history.
But the timing of France's youthful new leader is good.
The economy, in the doldrums for years, is beginning to show signs of recovery.
Union power has waned in the Hollande years, even though workers rights are still held dear. And until a financial scandal ruined his campaign at the start of this year, Macron's mainstream conservative rival Francois Fillon had won wide electoral support for a far more aggressive set of pro-business measures.
Macron has already forged close ties with EU anchor nation Germany, and will head for Berlin on Monday to meet Chancellor Angela Merkel and ram home the message that the bloc is resilient despite Britain's 'Brexit' vote.
The handover begins at around 10 am (4 a.m. ET) at the 18th century Elysee palace presidential residence with a meeting that will include the exchange of nuclear missile launch codes.
Then Hollande will leave.
Back inside the Elysee, the result of the election will be read out - a moment that marks the actual assumption of power.
Macron will then be presented with what is effectively his chain of office - a heavy golden necklace mounted on a red cushion that makes him Grand Master of the National Order of the Legion d'Honneur - an honors system for servants of the Republic.
Aides said he will not actually put on the necklace. Neither of his two predecessors did.
After that, the pomp will ramp up.
An inspection of troops behind the palace will be followed by the 21 gun salute, and the new president will leave the Elysee through a gate topped by a gilded cockerel - a creature symbolic of France for centuries.
Then Macron will visit the Arc de Triomphe and the tomb beneath it of the unknown soldier, one of the millions who died as World War One raged a century ago.
Heavy with military symbolism, the site is a potent reminder that France is a member of the NATO defense alliance, of its place in two world wars, and of its turbulent past under Napoleon Bonaparte who ordered the Arc's construction in 1806 to commemorate his brief conquest of Europe.
The Arc is also in sight of the place officials believe was the scene of the latest Islamist militant attack to hit France.
Days before the first round of presidential voting in April, a policeman was shot dead by a suspected militant on the Champs Elysees shopping avenue that leads from the Arc.
Macron's inauguration takes place under a state of emergency in place since 2015.
More than 230 people have died in attacks claimed by Islamic State in the past two years as France takes part in military action against the militant group that controls parts of Syria and Iraq.
Fifteen hundred police will be mobilized to ensure security for the event. A large section of Paris will be closed to traffic all morning.