By
Special to Al Arabiya English Wednesday, 13 June 2018
Parliamentary elections in Pakistan, scheduled on July 25, are critical for various reasons and will be watched around the world, including the Gulf region.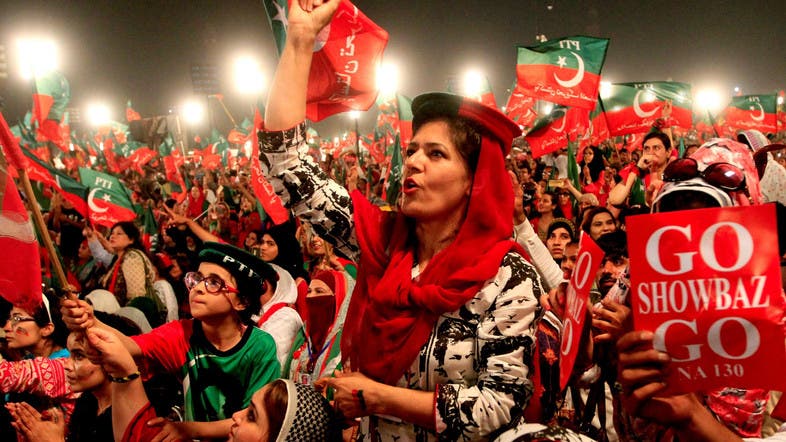 Supporters of Imran Khan, Chairman of the Pakistan Tehreek-e-Insaf (PTI) party, chant during a rally in Lahore on April 29, 2018. (Reuters)
Experts on security and strategic studies say the result of these elections will set the tone for relations between the nuclear-armed country and its neighbors and beyond.
According to them, whichever political party or figure emerges the winner will have to take stock of the geo-politics around the region and reset lot of relationships.
Similarly, capitals in the Gulf and wider Middle East see Islamabad's role in the region's security architecture will be keenly watching the outcome of the slugfest that is likely to unfold in Pakistan.
"Pakistan is a key partner of Saudi Arabia and the UAE and a there is a large Pakistani expatriate community in these and other Gulf Arab states and political change matters to Riyadh and Abu Dhabi," said Dr. Kamran Bokhari.
Bokhari, who is a senior lecturer, security and policy institute at University of Ottawa, said it will be interesting to see how Gulf states, particularly Saudi Arabia and the UAE, respond if Imran Khan led party, Pakistan Tehreek-e-Insaf (PTI), comes to power.
Opposition leader Imran Khan speaks to supporters during a celebration rally after the Supreme Court disqualified Prime Minister Nawaz Sharif in Islamabad on July 30, 2017. (Reuters)
"So far, the Saudis and the Emiratis have dealt with Pakistan's military and/or a Pakistan People's Party (PPP)-led government or one led by PML-N (Pakistan Muslim League). Should PTI come to power they will be dealing with a new partner in Islamabad," he says.
According to him, as the Arab world is passing through intense socio-political change, "it could learn from Pakistan trajectory."
Dr. Moonis Ahmar, Director of Program on Peace Studies and Conflict Resolution in University of Karachi, said because Pakistan is a only nuclear state and the second largest Muslim country; change in governments is something that the Arab world cannot ignore.
"Pakistan is located at the crossroads of Central, West, South Asia and the Gulf and election results may deeply influence its foreign policy. Its growing security and strategic ties with Saudi Arabia is also an important factor to take elections in Pakistan seriously," says Dr. Moonis.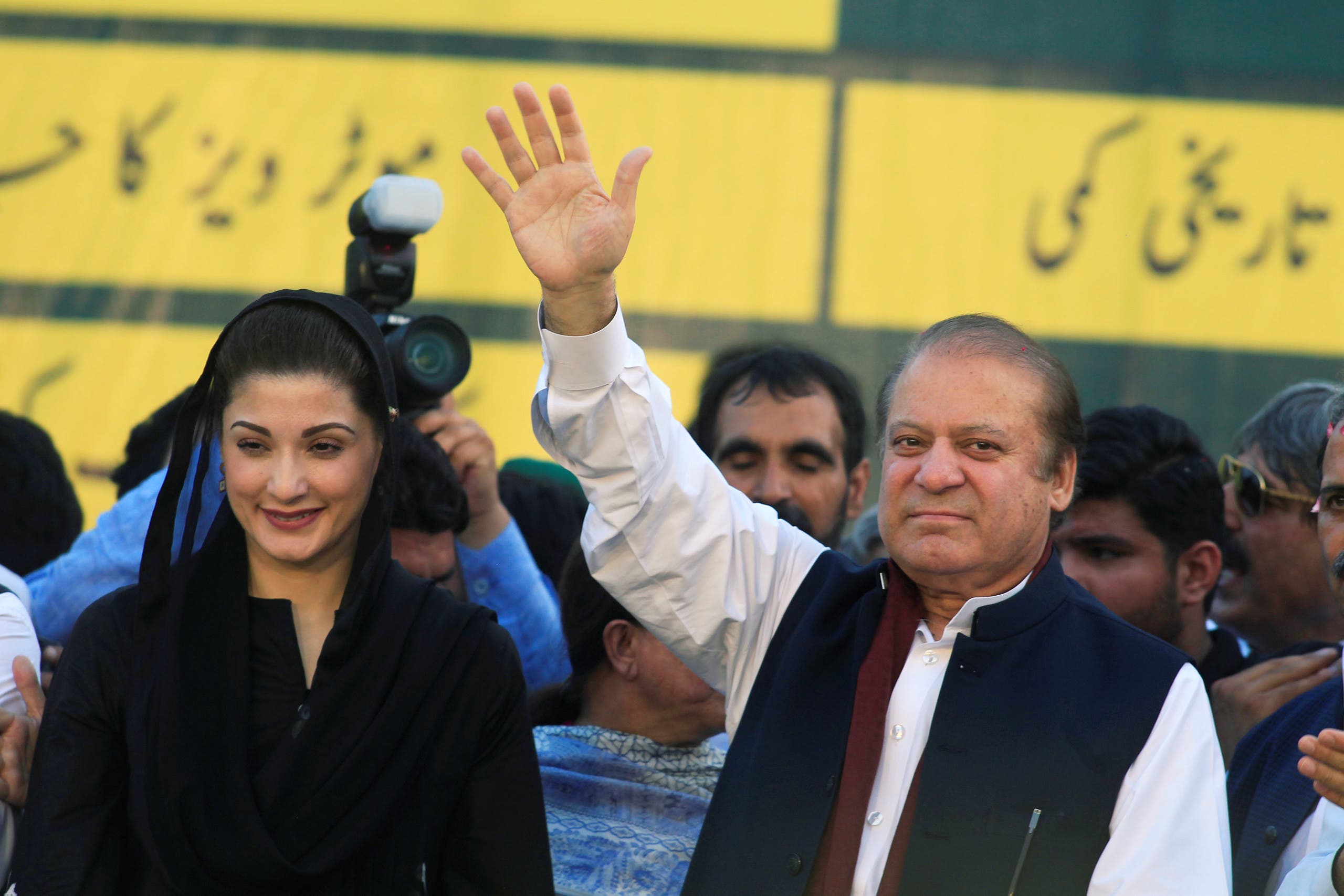 Nawaz Sharif (R), former Prime Minister and leader of Pakistan Muslim League, gestures to supporters as his daughter Maryam Nawaz looks on during party's workers convention in Islamabad on June 4, 2018. (Reuters)
Dr Arshi Saleem Hashmi, Associate Professor at National Defense University, Islamabad, believes that as diplomatically Pakistan plays an important role [in the Gulf region], Pakistan's military cooperation with many countries in the Middle East is an important factor for the Gulf states to observe.
These circumstances will definitely change with a new government. However, Dr. Hashmi maintains that the nature of relationship between Pakistan and Saudi Arabia are beyond dependence on a particular political government and successive regimes in Pakistan have maintained good relations with Saudi Arabia.
Dr Ahmar says Iran will be a factor in the evolution of relations going forward. According to him, Iran would like to see Pakistani regime neutral and not tilt in favor of Saudi Arabia or to subscribe to Riyadh's request for sending its forces to Saudi Arabia to be involved in war in Yemen.
Dr. Arshi Saleem Hashmi of the National Defense University says Pakistan has lately given a clear message that it would not appear as a party to any conflict in the region. "Pakistan is more comfortable in maintaining relations with both Saudi Arabia and Iran," she says.
There is also a consensus among Pakistan establishment, especially the military, which supports good relations with both Iran and Saudi Arabia. Whether this continues to be the case will only be clear after election results are declared in Pakistan.